Sale!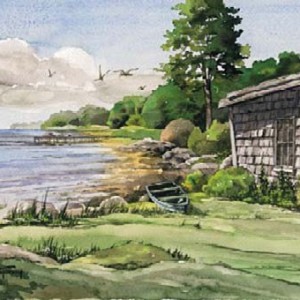 "Out to Patten Point" Note Cards
$16.00
"Out to Patten Point" Monty Art Note Cards. Cards are attractively boxed with envelopes (8 notecards per box).
Description
"Out to Patten Point" Note Cards:
An old fishing shack on a point overlooking the edge of Spruce Head Harbor – one of the most active lobster fishing villages in the state of Maine.
Attractive box of 8 notecards with envelopes.
Bruce Montgomery was well known for his talent as a painter from his high school days at Germantown Friends School through his years as a Fine Arts major at Bethany College, where his mentor was the well-known Swedish-American post-impressionist, Birger Sandzén. In the late 1950's Monty found artistic outlet, through his sketches and oil paintings of Korea, for the profound impact his combat experiences and temporary assignment in Japan had on the rest of his life. Oils continued to be his preferred medium through the 1960's. But as his music career flourished, so did his set designs, program covers, and theatrical posters. He found there was less and less time to be serious about his art.
Watercolor landscapes depicting scenes of the rugged Maine coast became the perfect outlet for "Philadelphia's Renaissance Man." He could quickly produce them, yet still express his talent and passion for painting. What began as a hobby in the 1970's became a business after Bruce's retirement from Penn, when he established Monty Art to market note cards of his watercolors. He found tremendous satisfaction in this medium and continued painting prolifically for the rest of his life. His watercolors have adorned galleries and many private collections.
After his passing, the ownership of Monty Art notecards was turned over to BMFA, so that all sales revenues could help to support the Foundation's Fellowships & Grants program.