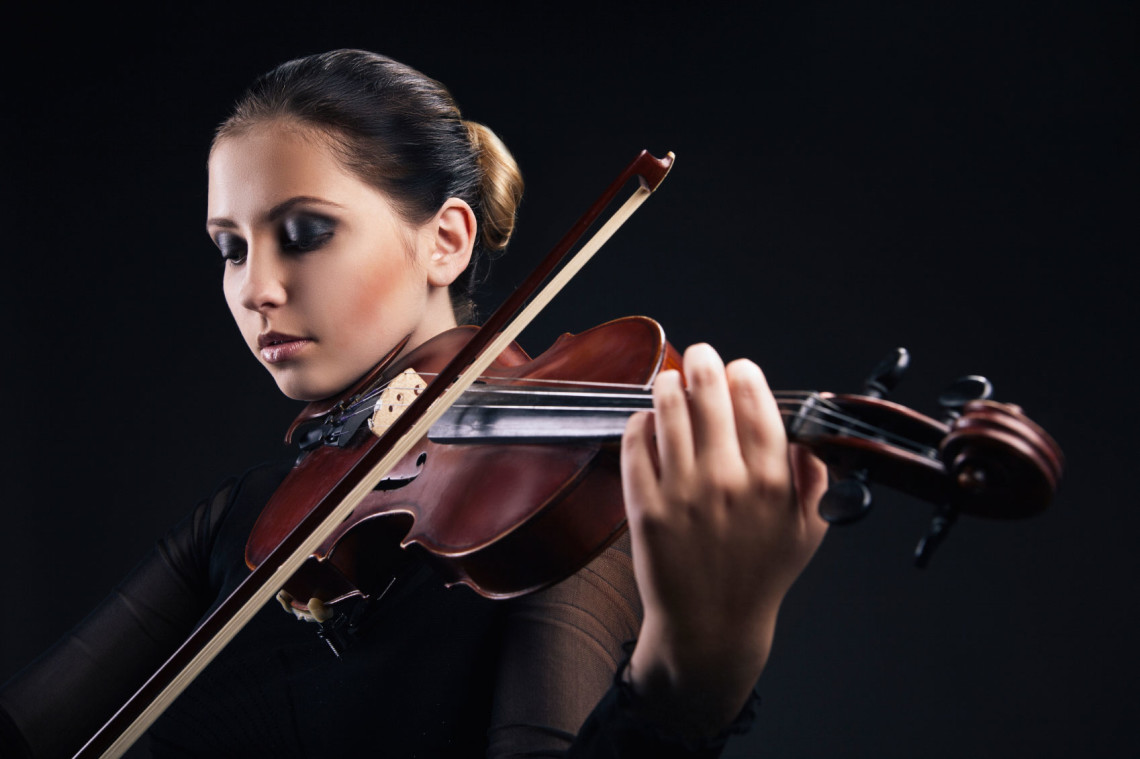 On Thursday, October 16th, 2014, the Foundation hosted its Inaugural Fellowships & Grants Awards Reception, a fundraiser held in the Hamilton Garden at the Kimmel Center for the Performing Arts. The Foundation awarded $2,500.00 Fellowship Grants to four talented winners. This festive occasion included catering by Garces Events; an elegant Silent Auction; foot-tapping cocktail music by Mike Thompson (clarinet), David Conver (piano) and Bill Handy (drums); and an entertaining performance of "The Money Song" from Avenue Q by a talented troupe of theater arts students from the University of Pennsylvania. Enjoy reading about our talented winners below:
CAMVA (Creative Arts Morgan Village Academy) Choir (Camden, NJ)
Suzzette Ortiz, Choir Director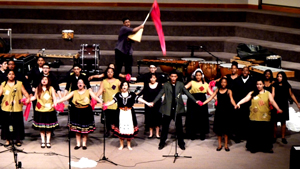 CAMVA is a performing arts magnet school encompassing grades six through twelve. Its mission is to provide compelling experiences and opportunities for the diverse and largely underprivileged Camden City student population. Students must audition to attend CAMVA and there is a strong emphasis on raising the bar high, both academically and artistically. All students choose a major in visual arts, creative writing, dance, drama, vocal music, instrumental music, or costume design. There is a 100% graduation rate and 97% go on to 2-year or 4-year colleges. The choir has won gold medals in competitions in Prague, Puerto Rico and Nashville. They will use their grant to hold a two-day vocal music Master Class in May 2015 given by "We Be 3," a trio of improvisational teachers who work closely with 10-time Grammy winner, Bobby McFerrin. Our grant enables them to work and grow with these high-caliber performers.
Amber Emerson, Age 18 (Lewisberry, PA)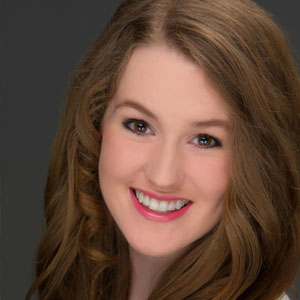 Amber is a freshman at Moravian College on a merit scholarship, earning a Bachelor of Music degree as a vocal and performance major (classical, jazz and musical theater). Her dream is to become a leading actress in musical theater on Broadway. She has played leads in several regional productions, winning Best Actress Under 25 Award: 2013 BroadwayWorld Central PA Awards, and a nomination for Outstanding Actress in a Musical: Hershey Theater Apollo Awards. She also interned as the ingénue lead in the summer of 2014 at the popular Gretna Theater in Mt. Gretna, PA. She is enchanting on the stage, and if fortune goes her way, we believe she has what it takes to become a star. She will use her grant for private acting and dance instruction during college breaks and will apply for one or two workshops in the summer of 2015: Goodspeed Opera House Musical Theater Dance Intensive, Broadway Dreams Foundation Intensive, and an acting intensive such as The Barrow Group.
Penn Glee Club Band (Philadelphia, PA)
Teddy Guinin, Manager; Alex Sacone, Deputy Business Manager; Tom Peterson, Student Director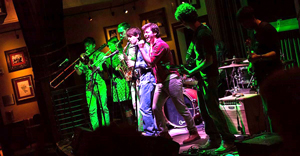 The Penn Glee Club Band is a talented eleven-piece instrumental ensemble within the University of Pennsylvania Glee Club that blends rock, ska and swing into its own unique sound. The band includes three guitars, drums, three vocalists and an impressive horn section. When not providing substantial backing to the full Glee Club during the fall and spring shows, the PGC Band has played independently at such Philadelphia venues as the Hard Rock Café, The Legendary Dobbs, Kung Fu Necktie, and at numerous parties on campus, including Spring Fling's quad stage. The band will use its grant to invest in much-needed, high-quality microphones to produce their first CD in house, in lieu of recording in a costly commercial studio. This equipment will enhance the sound of the drums, horns and other acoustic instruments in live settings during shows. The microphones will also be put to use as a backing track for the Penn Glee Club and to record the full club as well. Acknowledging that recording studio time is temporal and only benefits the band one time, the Glee Club and the Glee Club Band believe that the versatility of these microphones will be a major asset for the foreseeable future.
University of Pennsylvania Sirens (Philadelphia, PA)
Emily Eck, Music Director, Sonja Breda, Business Manager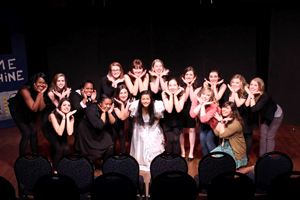 The Penn Sirens, a women's vocal ensemble, performs a vast array of engaging music repertoire that consists of styles ranging from classical, choral, jazz and Broadway, to contemporary pop and rock. This student-run group of seventeen young women was founded in 2011 with the encouragement of the Penn Women's Center and Harnwell College House Dean, Dr. Suhnne Ahn. Its mission is to advocate the empowerment of women through the practice and performance of music, and to give women the same opportunities for artistic expression, performance excellence, leadership and sense of community currently afforded to the men of the Penn Glee Club. Lacking a paid director, the Sirens will use their grant in three ways: (1) to engage a professional vocal coach to work with them once a month on musicality and style; (2) to purchase uniform performance attire to ensure a more compelling brand identity; and (3) to help with travel expenses to NYC for a planned joint concert with the Columbia University Glee Club, their first out-of-town concert.
The Board of Directors congratulates its four winners and looks forward to autumn 2015, when they will be required to report back to the Foundation on the successes they achieved as a direct result of their Grants.
The 15 applicants who applied for the 2014 Bruce Montgomery Foundation Fellowship Grants were serious and talented. Each demonstrated strong skills and submitted well-crafted proposals for noteworthy projects. Applicants included choruses from several local colleges, universities and high schools, as well as individual actors, singers, playwrights and instrumentalists. Six finalists were selected for personal interviews with the Grants Committee. Making final selections was difficult and all applicants are to be congratulated for their impressive efforts. The Foundation looks forward to helping future generations achieve their dreams as its Fellowships & Grants Program grows.
The Bruce Montgomery Foundation is deeply indebted to Bruce Montgomery protégé Marc Platt –
Tony, Golden Globe & Emmy Award-winning Broadway, Hollywood and TV producer –
for making its first year of grants possible.