Bruce Eglinton Montgomery was an American composer, lyricist, choral arranger and conductor, author, poet, set designer, sculptor, graphic and fine artist, actor, world-renowned stage director of the Gilbert & Sullivan comic operettas, and mentor to thousands of students.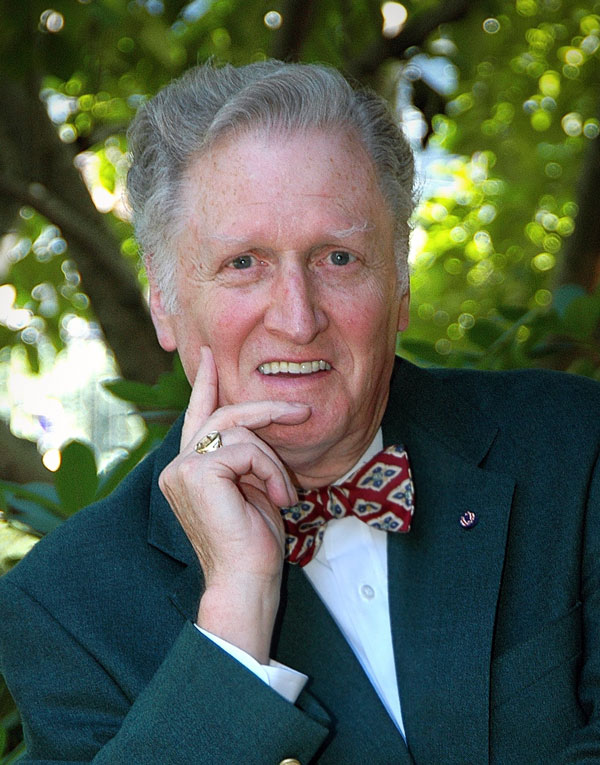 Bruce Eglinton Montgomery
1927-2008
Frequently referred to as "Philadelphia's Renaissance Man" and called "a whirlwind of musical and artistic involvements" by the Associated Press, he was – quite literally – larger than life.
As a composer his works ranged from premieres with the Philadelphia Orchestra and the Concerto Soloists of Philadelphia (now the Chamber Orchestra of Philadelphia) to a hit Off-Broadway show, and from countless choral works and arrangements to organ processionals, light operas and musical comedies.
As a founding member and then as Director of The Gilbert & Sullivan Players of Philadelphia, Monty (as he was affectionately known by his students and friends) became an internationally recognized authority on Gilbert & Sullivan's unique form of satire. He inherited this legacy from his father, renowned tenor James Montgomery.
In the late 1960's, after receiving unanimous critical acclaim for his Off-Broadway musical, The Amorous Flea, Montgomery made a conscious decision to forego a potentially lucrative career as a Broadway composer/lyricist, in favor of returning to the University of Pennsylvania to fulfill his first love as an educator and mentor to thousands of talented students.
After fifty years of directing student performing arts at the University of Pennsylvania including the Penn Glee Club, Mask & Wig, The Penn Singers and other prestigious music groups on campus, Montgomery's "retirement" in 2000 turned out to be a myth. He became busier and more productive than ever. In 2005, his autobiography, Brothers Sing On! My Half-Century Around the World with the Penn Glee Club, was published to public and critical acclaim by the University of Pennsylvania Press.
At the time of his death in June 2008, Montgomery was writing his first string quartet, had two additional book manuscripts ready for publication, and was facing the real probability of seeing his original musical, Jesse, produced on Broadway. Interest in this "whirlwind of activity" (his huge body of work and ongoing projects in various stages of completion) has continued unabated since his passing.
Select Paintings By Bruce Montgomery